If you are a business owner and you don't have an Instagram following, we are here to help you!
There are many components of social media profile optimization, and our experts are here to break down 10 ways to promote your Instagram. Just keep reading to learn more about Instagram promotion techniques.
#1 Establish your content pillars
Content pillars are just a fancy way of saying content categories or themes. Everyone needs to establish a few content pillars they focus on in order to maintain a consistent social media strategy.
Now you might be asking yourself, what types of content pillars should I use? Well, it depends on your goals, audience, and brand image. These are some examples of content pillars you can consider adding to your Instagram strategy:
Educational content is informative content that teaches your audience something. So, this could look like infographics, tutorials, or DIY content.
Entertaining content has become more popular since TikTok became popular. This type of content is often funny reels content that utilizes trending audio. Entertainment content makes it easy to go viral and it effectively shows off your brand's personality, but it doesn't really sell your product. So, we recommend using this pillar to grow while integrating other content that focuses on the product you offer.
This pillar revolves around sharing inspiring stories, motivational quotes, personal experiences, or really any content that uplifts your audience. Overall, inspirational content aims to provide encouragement and positive vibes!
Lifestyle content is all about aesthetics! This pillar is a way to showcase your products in an aspirational light. A great example of a lifestyle reel for a tea brand would be to showcase a woman looking elegant in a nice, luxury room, sipping on a cup of tea. Less is always more when it comes to lifestyle content.
Promotional content is exactly how it sounds. This type of content promotes your products by way of photos, testimonials, or videos showcasing your content. Every brand should sprinkle in some promo content and use this type of content every time they have a sale.
These are the most commonly used pillars to promote your Instagram and build your following, but there are a variety of other pillars you can add to your social media strategy! Just keep an eye on what type of content your followers love to see, and you'll be on the road to success.
#2 Post a combination of stories, photos, and videos
Too many companies are leaving stories and static posts behind. These businesses might get views or even go viral, but there is more to promoting your business on Instagram than just likes and views!
You can more effectively promote your Instagram and generate leads by using a mix of stories, photos, and reels. If you just use reels, it's nearly impossible to establish a real community and make what you have to offer clear. So, take advantage of all the options you have to share content on Instagram. You'll thank us later.
Related: Revealed: The Best Time To Post On Instagram In 2023
#3 Establish a clear brand image
Your brand image is essentially your brand's identity and aesthetic. A strong brand image can help a company establish credibility, improve recognition, and make an overall good impression. Once you're able to build a recognizable brand, you can effectively promote your Instagram.
Now, this is how you can create a brand that is instantly recognizable:
A brand font is a font that you use in all your content. Your brand image won't be clear if you use different fonts for each post. So, pick a font and stick to it! You can use fonts from our Instagram font generator, fonts Instagram offers their users, or fonts from whatever app you use to edit your content.
Every brand needs to establish their brand colors. We recommend selecting 2-4 colors that you use for everything. Yes, everything! That means you should use these colors for your logo, font, static posts, and so on.
Signature emojis are a collection of emojis that you use for your Instagram content. By sticking to a few emojis that feel true to your brand identity, you are adding even more personality to your brand! We recommend choosing emojis that coincide with what you sell and your brand colors.
Your profile picture must be relevant to your brand. Don't use your best selfie or just any photo. Instead, use a photo of what you sell or simply use your company's logo.
Don't just write a basic bio! Your bio and profile picture are the first thing users see when they visit your page, so your bio needs to make what you have to offer clear.
All in all, you want to do your best to control how each visitor or customer perceives your brand and these tips are the best way to do just that!
#4 Post content with real people
Stock photos of your products aren't enough to grow your following. In fact, sharing content with just your products visible could hinder your growth. This is because the Instagram algorithm favors content that shows faces, and users generally prefer photos and videos that feature real people. So, ditch or limit your use of stock photos!
If you don't have photos that feature real people already, you can still use this tip. There are a few ways you can go about getting quality content with real people, and we are going to break them all down for you. Just keep reading!
In this example here, you can see Nike using athletes to promote their brand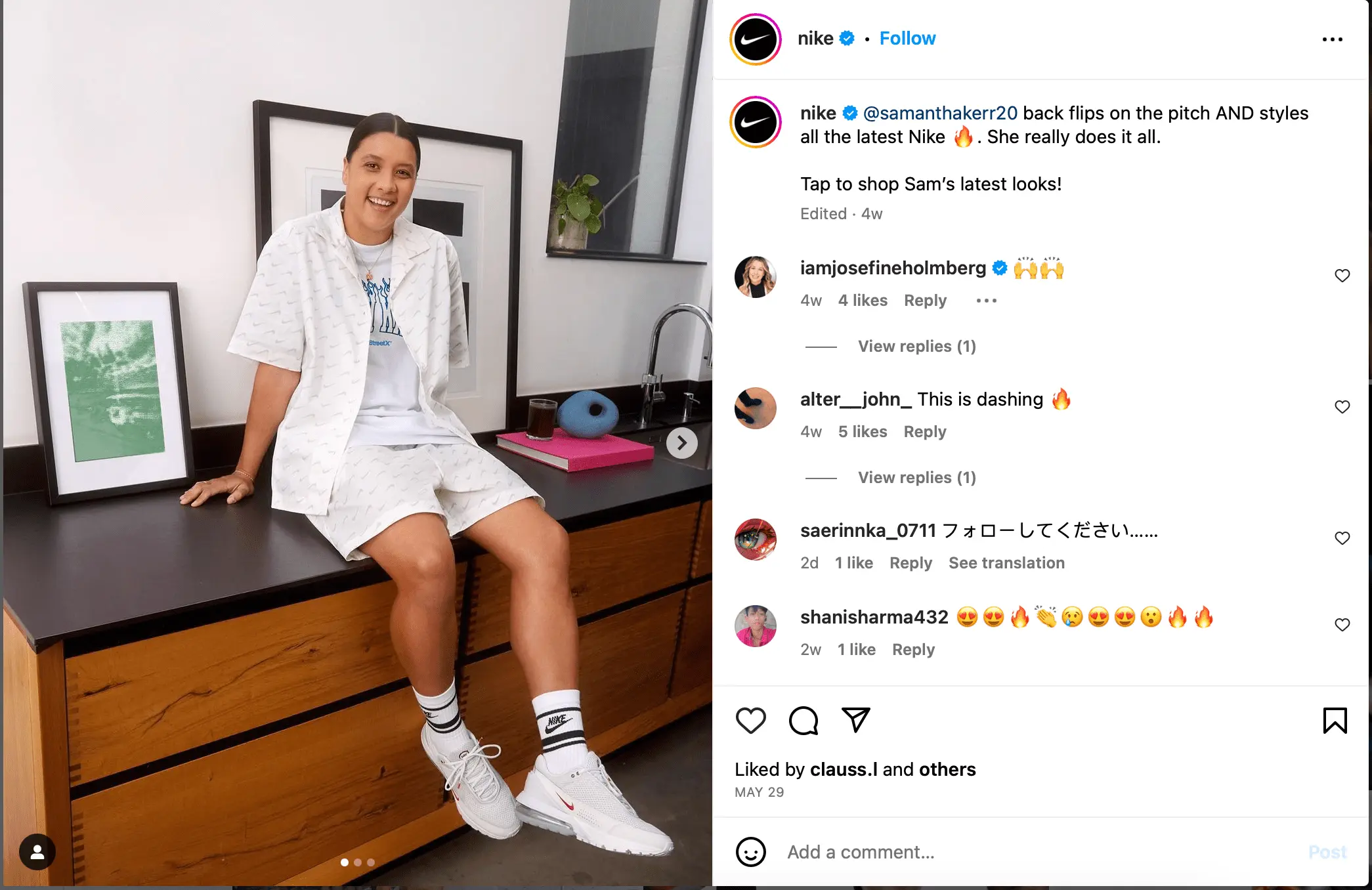 Hiring content creators gets first place for gathering content because their content is affordable and effective. When you hire content creators, you can debrief them on exactly what you need and get content solely for your own use. You can hire them on a trade basis or pay them a flat rate to make quality content for social media posts.
There are a broad range of services online that can simplify your search. When you use platforms like Billo, you'll be connected to a variety of content creators without even needing to scout for them yourself.
Coordinate Influencer collaborations
Surprise: Influencer marketing isn't the same as hiring content creators! As discussed, content creators make content solely for your use. Content creators reach or lack thereof doesn't matter, whereas you are paying for influencers reach and content.
Instagram has a "collaborator" feature that you should use for paid partnerships. Instagram's collaborator post feature allows users to co-author static and reels posts. Each username in the collab will appear in the post header for easy recognition, and the content will be hosted on every collaborator's page. So, with this feature, you are getting new content in your feed and engagement from your co-author's followers. It's a double win!
If you want to get full creative control, you should have your own photo shoot. Believe it or not, you don't need a huge budget to conduct a photoshoot. All you need is a concept, a few actors or creators to appear in the video, a clean room, and a camera (your iPhone could even work for this!).
UGC is user generated content. This term is just a way of saying content your customers share that feature your products. If you are lucky enough to have customers tagging you in their posts, reach out to them for permission to use the content and spread the love by reposting it when you get the okay.
Overall, don't just use stock photos and make excuses for why you can't share people-centric content! There are many ways you can get content that features real people no matter your budget.
#5 Create a personalized hashtag sheet
Instagram hashtags are necessary for any brand that wants to grow their following! You can optimize your Instagram profile by using hashtags that are relevant to your brand.
You can't pick just any hashtag, though. You should avoid general hashtags that are oversaturated with posts and do some research to determine which hashtags are relevant to your brand. This is an example of some hashtags that are perfect for a donut shop:
#Donuts
#DonutLovers
#DonutShop
#DonutPorn
#DonutAddict
#DonutObsession
#DonutHeaven
#DonutTime
#DonutGoals
#DonutDelights
#DonutLife
#DonutDreams
#DonutMagic
#DonutParty
#DonutFlavor
You should also incorporate location-specific hashtags if you have a brick-and-mortar shop. So, if your donut shop is in Los Angeles, you should add hashtags like #LADonuts, #LosAngelesDonuts, or #LAfoodscene.
Now, if you are ready to start your search for the best hashtags to promote your Instagram, look at what your competitors are using, what complementary brands are using, or do a basic search for hashtags in the search bar. If you want some extra help, you could also try using ChatGPT to find the best hashtags for your brand.
#6 Host giveaways
Running an Instagram contest is one of the best ways to promote your business. All you need to do is post a photo on your own page, ask people to follow you, like the post, and tag a friend for a chance to win some free products.
In this example here, we can see the Kignon brand running a contest to promote their cookies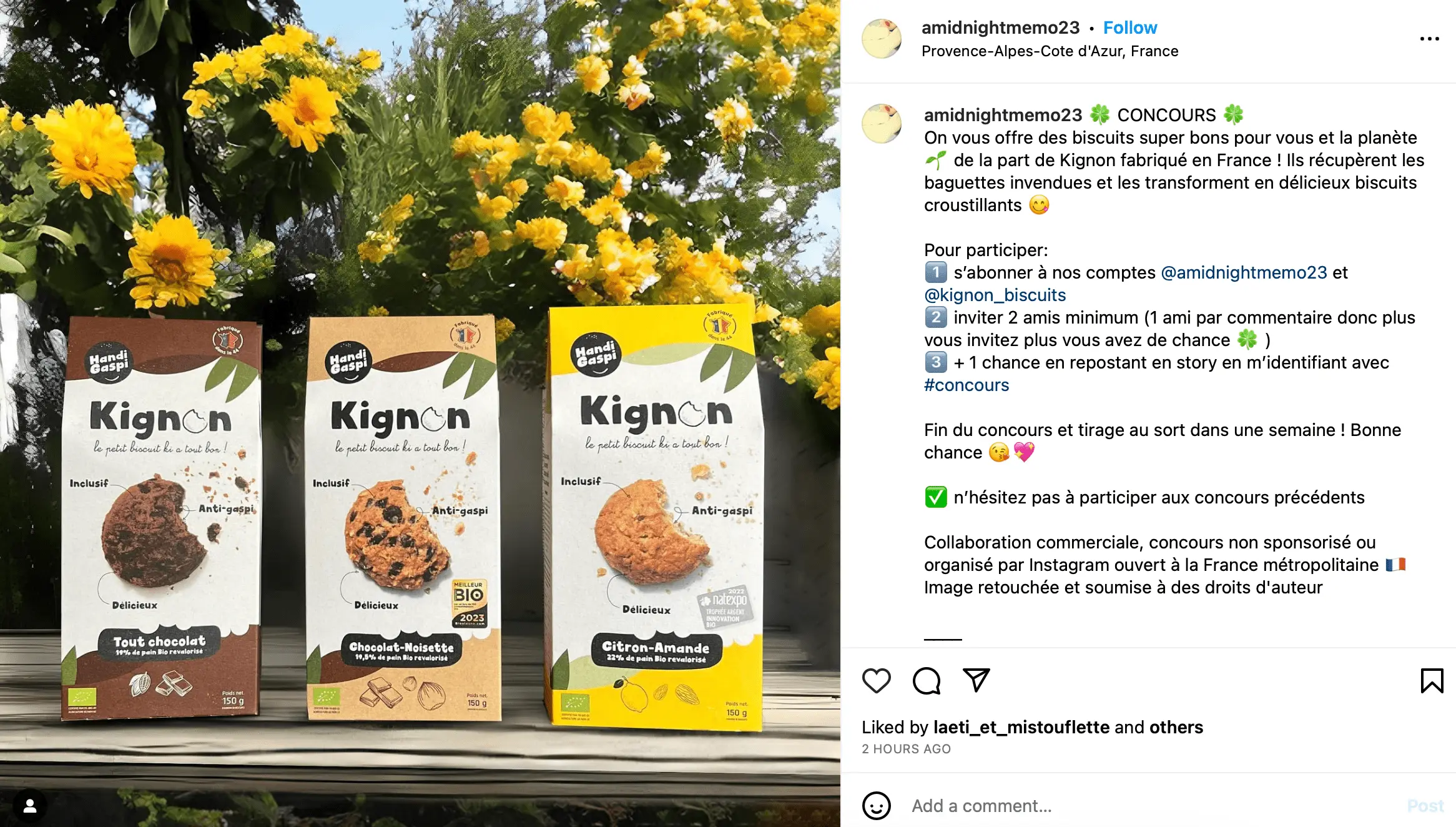 Not only will an Instagram giveaway get you more followers quickly, but you will give your products away to the winners. Gifting these products might seem like a loss, but it's quite the opposite! The winners might love your products, become loyal customers, and even recommend your products to family and friends. It's a win win!
#7 Cross-promote your Instagram posts across other channels
Maximize your content by cross-promoting it! Posting your Instagram content to Facebook, TikTok, YouTube, or another platform is the best way to get the most out of your content.
Cross-promotion is the best method for lead generation, but it can also be effective for growing on Instagram. You can focus on directing people back to your Instagram profile if your primary goal is to boost your IG following.
Although we highly recommend cross promoting your content, each social platform has its own best practices that you need to keep in mind. For example, the trending sounds on TikTok might not be the trending sounds on Instagram. Additionally, you can use 30 hashtags on Instagram, but you won't be able to do that on TikTok.
#8 Run Instagram ads
Instagram ads are also known as boosted posts. Although organic social strategies can help you build a following, you can reach thousands of potential customers by boosting your Instagram posts!
So, familiarize yourself with Instagram ads, and consider putting some of your budget towards a paid Instagram promotion every week.
No, we don't mean hashtags! You should be tagging people, brands, and locations in your posts if you really want to promote your Instagram. Now, let's break down the different ways you can use tags to start using to kick your growth into high gear.
Tagging any person featured in your Instagram post is an unspoken rule. If someone created content for you, you should give credit where credit is due.
Plus, tagging other users is an opportunity to get a repost! There is no need to even ask for a repost here, they will most likely repost your content if they appear in it.
Don't give any of your competitors free promotions! You should never ever tag brands that compete with yours. But you can take a picture of your product next to one that complements yours and then tag that brand.
Tagging other brands that complement yours is an overall effective Instagram promotion technique. You might get a shout out from another brand when you tag them in your post. Tagging other brands is also an effective SMO technique. It gives the algorithm an idea of what content you are sharing.
Tagging locations makes it much easier for people to find you! You can tag the city and state where you are located or your storefront itself.
You can also take advantage of geotags any time you travel to another city, attend a convention, and more. Just get creative and never post without geotagging!
#10 Buy Real Instagram followers
Are you trying to promote your Instagram and still not seeing results? Well, the truth is that you could use all these tips to get more followers on Instagram and still have a hard time. That's because people want to follow accounts that are already popular!
Your account will have more authority if you have more followers, so buying Instagram followers is your best option to get started. The good news is that Skweezer can safely deliver followers to grow your account organically.
Does this sound too good to be true? It's not, and here's why:
Get in front of a larger, more relevant Instagram audience
If you are a new business owner who wants to promote your Instagram, you need to start with purchasing followers on Skweezer. We deliver active, real Instagram followers who are relevant to your brand. This boosts your engagement and legitimize your brand! There are other companies that can sell you fake followers (AKA bots), but Skweezer is the only company you can trust to deliver real followers.
Immediately increase your social media presence
When you buy Instagram followers from Skweezer to promote your Instagram, you don't need to wait months or even years to get the right people to follow you! We will simply share your username with our network of Instagram users, and we will do all the work for you.
They will actively follow you, like your posts, and maybe even repost your content on their own feed.
Attract new Instagram followers with ease
Users are more likely to follow a brand with a large following because it's harder to trust a new brand that doesn't have an established presence. Buying followers will improve your credibility and make it much easier to get even more followers!
Skweezer uses the latest encrypting technology via 256-SSL protection to offer you the safest experience possible!
Related: How To Get More Likes On Instagram With These 10 Crucial Tips
The bottom line
This concludes our top 10 tips to promote your Instagram! We hope you learned something today about Instagram promotion and you are all set to start building your following.
Head to Skweezer now to start growing your Instagram following organically today!