With many social media growth tools available today, it can be difficult to know which service suits your needs and which will work the best for your growth goals. In this review, you will get an overview of two popular growth services – Skweezer and Famoid – to help you make your decision.
If you're not already utilizing social media for your business, you're missing out on a huge opportunity. Social media platforms help you reach your target audience, create brand awareness, and, ultimately, generate sales.
However, connecting with social media users and turning them into devoted followers of your brand is not easy. There is strong competition online nowadays, and going in without a growth strategy won't be doing you any favors. That's why investing in an Instagram growth solution is essential for companies that want to improve their social media presence and grow their brand.
However, with hundreds of social media growth tools available today, it's difficult to know which service is best for your requirements. Additionally, there are some companies to steer clear of due to not living up to their claims of how they can help their customers.
In this review, we will compare the popular Skweezer and Famoid tools to help you understand which service is best for your needs.
Skweezer VS Famoid: The Company's Approach
Skweezer
Skweezer is a growth agency based in Hong Kong that helps improve engagement on Instagram for clients all over the world. The company was founded in 2003 and provides automatic likes, real followers, and engagement services.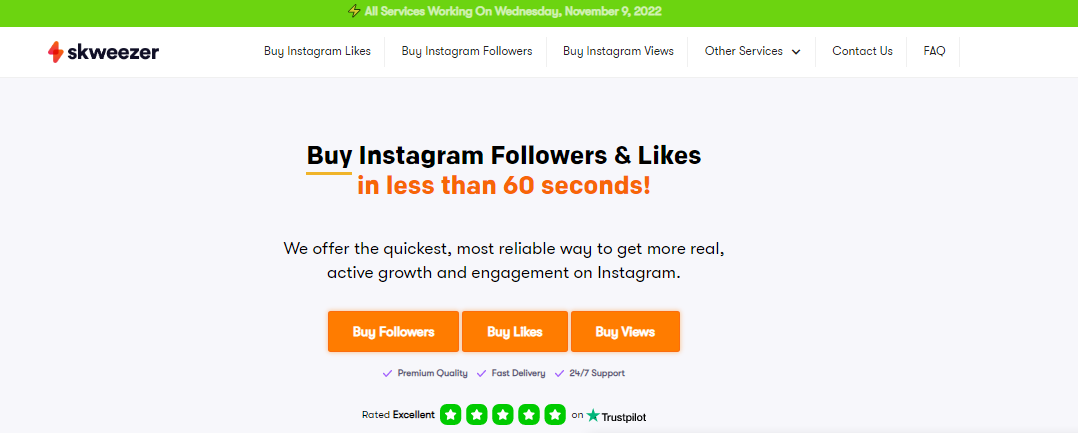 Skweezer's interface is clean and simple. As soon as you land on their homepage, it is easy to see what they offer customers and how those services can help you achieve your goals. They prominently display their five-star rating and information about the packages offered and estimated delivery times.
The menu bar headings are straightforward; "Buy Instagram Views, Buy Instagram Followers," and "Buy Instagram Likes." They talk about the processes of services and delivery methods too. We will review more details of how it works to better understand whether this platform is right for you.
Famoid
Famoid is a social media growth service company that helps its users grow their social media accounts with quality followers and engagement. The company outsourced profile engagement for Instagram, Facebook, Youtube, and Tiktok, offering services such as followers (subscribers), likes, views, comments, and automated likes since 2017.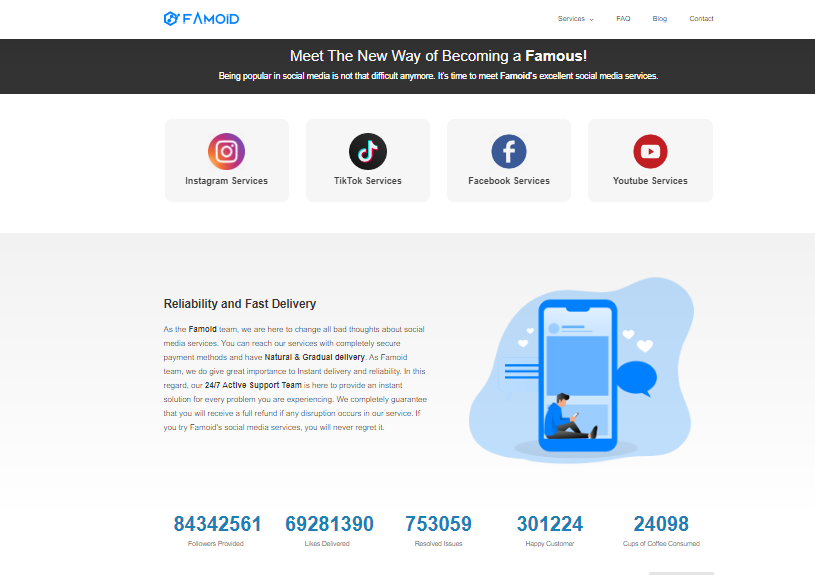 Famoid provides users with a base of followers to facilitate the growth of their accounts. The company believes that once users have a following, their profiles will appear more frequently in search results and grow more quickly in an organic way.
Famoid's homepage has a straightforward layout that is easy to navigate. It showcases the platforms they offer services for and includes a blog, services section, contact page, and FAQ at the top menu bar. As you scroll down further, you'll see convincing sales and marketing copy telling you why this is a legitimate service.
Their website has testimonies from happy customers and a frequently asked questions section to help potential customers make their decision.
Social Media Growth Strategy Of Skweezer Vs. Famoid
Skweezer
At Skweezer, they pride themselves on providing active followers and engagement using simple rules that anyone can follow. The company offers one of the largest user bases in the industry and provides its customers Instagram followers and views to help expand their reach and get real engagement. How do they do it? By targeting users interested in the type of content that their customers' profiles are focused on.
Famoid
Famoid's purpose is to give users a solid foundation of followers so their accounts will appear more in search results and, eventually, gain momentum. However, what process they use to provide those followers is not clearly explained by the company. Do they target a user base interested in your content? Or do they have a large general user base that they share with their customers? We don't have any idea how they provide you with real followers.
Related: Skweezer Vs Buzzoid – Which One Is The Best For You In 2023?
Skweezer VS Famoid: Features & Prices
Skweezer
Automatic Instagram Likes
With this Skweezer service, you will immediately get likes on your photos and videos. You can buy anywhere from 30-60 Likes per post, which means you can get an influx of 100k-150k+ likes altogether.
The cost and needs of your project vary. Just keep in mind that your likes will come quickly once purchased, so either buying a few at a time OR divvying them up into different posts is advised to avoid any suspicion from Instagram's end.
Real Followers
The agency's ultimate goal is to give you active followers who will enjoy and interact with your content. The platform pays users to follow you and comment/like/view your posts. You even get a say in what types of comments are made on your posts.
Skweezer offers two choices for purchasing followers: "High-quality" and "Premium." By choosing high-quality Instagram followers, you get users with a profile picture and at least some uploaded content. In contrast, according to the company, their real Instagram followers are the most authentic users who will stick with you long-term.
Instagram Stories and Videos with views
The cost per view is cheap, and you can get 100-150k views on your posts and stories. However, it's vital to buy a few views that align with the number of followers you have to prevent any suspicion from Instagram.
Buying Instagram Comments
Skweezer's comment feature allows you to get customized or generic comments for your posts.
Buying Instagram Account Verification
Many platforms offer comment, like, and view services, which is perfectly understandable. But when an agency claims to offer an Instagram blue tick service without explaining how they would do it, this is questionable. The company only says that they will check your account before giving a specific service, but no other details are provided.
Famoid
Buy Instagram Followers
The company recommends using this feature to start your IG profile from scratch. The company provides two types of followers to its customers: real followers or growth that can be managed.
Real Followers
You can get 100 for as little as $3.99 and up to 15000 for only $199.95.
Managed Growth
You can purchase the managed growth package for $89.95 (3000 followers, up to 100 daily) or increase your order to $589.95 for 30,000 followers with a delivery of 1000 per day. The company promises that choosing this option will result in a steadier supply of new followers coming in each day rather than all at once.
Buy Instagram Likes
They offer likes to boost your posts by selling you likes, but it's not quick or cheap. Plus, there's no guarantee that the purchased engagement will be evenly distributed among all of your posts. The company's like packages start at $2.99 for 100 likes and go up to $168.95 for 25,000 ikes.
Buy Instagram Views
If you mainly want to get more Instagram video views rather than like them, this package is for you. You can get views from 100 views for $2.95 to 25,000 views for only $99.95.
Buy Automatic Likes
If you opt for the automatic likes package, you will receive a certain number of likes every time you upload a new post. For example, with 50 automatic likes, your most recent posts would each have 50 Likes automatically applied to them. This service starts at $79.95 for 50 Likes per new post and goes up to 500 Likes per new post for $399.95—which is more than what other social media growth services cost (that we've found).
Other Social Media
Aside from Instagram, Famoid also offers Facebook, Tiktok, and Youtube services. Prices for these packages are on the higher side, so it's tough to say whether they're worth the extra cost – opinions vary on this topic. By offering a free trial, users can explore the service and decide if it's worth their money before investing in a paid package.
Customer Reviews
Skweezer
To see more customer reviews, check out Skweezer Reviews on Trustpilot. The customers who have left reviews mainly used the platform's followers' service. Here are some of their customer reviews from Trustpilot.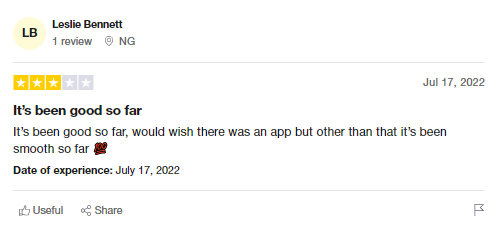 Famoid
Out of 71 customer reviews on Trustpilot, Famoid has an overall rating of 3.8 stars out of 5. Here's what some customers have to say: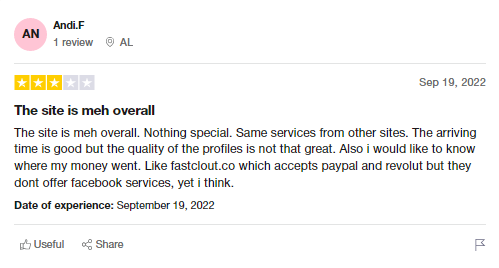 Buying Likes and Followers on Social Media
Let's talk more about how to buy likes, views, and followers on social media.
There is a big difference between growing your Instagram account naturally over the course of months and buying 10,000 followers who show up in less than a minute.
When people are just starting out, it can seem hard or even impossible to get enough followers to make their account look real. When that happens, you might be tempted to try quick fixes.
Oh, that number on the screen that I've been fixated on for weeks: I can order this many followers! So what? Hey, random Internet service, it doesn't matter if I get banned, just take my money.
But that isn't real organic growth; it's just a quick fix that won't help in the long run.
We use strategies at Skweezer that:
Can never get you banned from Instagram, but do work in the long run
What About Followers Who Are Engaged?
Always remember that when talking about Instagram (or any other social media) success, quality is more important than quantity.
Would you like a million followers who don't care about what you post? So there are no likes, comments, views, tags, or anything else. You only have that shiny number by your name.
On the other hand, say you have 10,000 people who follow you. Every other day or so, a few new people follow you. It's not a huge number, but it's growing. All your posts get great engagement. People are talking about your post in the comments, your videos get a good number of views, and some of your posts sometimes end up on the explore page.
Doesn't that sound a lot more interesting than buying 1 million followers who don't do anything and don't care?
Why do people buy Instagram followers, likes, and views?
You need engagement if you want other people to see your posts.
Engagement is the most valuable thing on Instagram. Followers, Likes, and views are all part of this currency, but the system isn't that simple.
If a post is very popular, there is a good chance that it will end up on the Explore tab. But the post's actual content is also taken into account.
No matter how popular your Instagram account is, it won't show up in a lot of people's explore tab if it's about horses. A 17-year-old girl who watches every makeup tutorial on YouTube couldn't care less about horses. Even though it's not the best example ever, it does the job.
Still, a post with a lot of likes and comments can reach a lot of people if it ends up on the "Explore" tab. This is why people buy likes: they want to reach this audience. But that's not real growth from the inside out. It's more important to focus on making good content than to worry about whether a post will get to the top of the Explore tab. One of our goals at Upleap is to give you more time to do what you want, like making the best content possible for your audience.
We don't let our customers buy followers and likes because that's not a good way to grow your account. Instead, we'll help you reach people who are either likely to buy from you or who have been following you for a long time.
Why it might not be the best idea to buy likes.
It's not something Instagram Algorithm likes.
Accounts with a lot of fake likes on their posts could be banned from Instagram for good. They could just be told, "We don't want you here anymore."
When this happens, accounts are usually warned first. Instagram might say that they've seen activity on the account that is "not real."
People in charge of Instagram know about it
So, let's say someone buys 5,000 likes. If they only have a few hundred followers, Instagram will know right away that something isn't right and will delete those likes as if nothing happened.
Even if someone has a lot of likes and a fair number of followers, but not many people comment on their posts, the ratio is still off.
Most of the time, you can buy likes from accounts that aren't very real. They might not even have a profile picture or posts of their own.
If the audience notices, you lose your credibility. If you have a lot of big competitors who are watching your every move, you can be sure that they will find a way to get that information out.
You don't have to worry about any of that with Upleap. Our services do not break any of Instagram's "rules."
You're acting like you're making it, but you're not
Followers who aren't real are just that: fake. They won't get you real engagement from real people. You got a few likes, but no one is behind them. If you run a business, at first it might seem like you have more followers, but none of the followers you bought are really interested in your business.
We don't offer any fake followers at Skweezer. Unlike many other companies, Upleap's customers don't have to pay for the company to grow. When a customer has a business, real people will buy their products, and when an influencer wants a bigger following, real people will interact with their posts.
Skweezer VS Famoid: Final Verdict
Now that we have reviewed the services let's go through our final verdict for both platforms.
Skweezer
We recommend this website. Many reviews say their service is legitimate and effective. The followers the platform provides are real, and it is good for engagement too. If you want a quick boost to your Instagram following, this is a good choice; however, we advise against relying on such services in the long term. A wiser strategy will be to create quality content for your niche audience if you want sustained growth on Instagram.
Famoid
Although Famoid delivers some quality service, we believe their prices are higher than average and not worth it. Additionally, their customer support is poor compared to other companies, and the way some of their 5-star reviews appear is questionable (are they legit reviews, or are they fake?) In the end, it is up to you whether you want to use this service.
At the end of the day, you can find value from both services in different ways. If you're looking for affordability and a good track record proven by great reviews, Skweezer comes out on top.
We Value Your Feedback!
Important: Are you affiliated with this company?
If you have a differing opinion about my review, I'm open to hearing your perspective. Please leave a comment below, and if any factual errors were made, I'll promptly correct them.
Thank you for taking the time to read.